Ordering a Repeat Prescription
Repeat Prescriptions

As of 1st July 2019 we will no longer be taking prescription request over the telephone. Prescriptions can now be ordered through the POD - Prescription Ordering Direct on 02476 246072.

Please order your repeat medication via the Prescription Ordering Direct (POD) Service. Pick up a leaflet in surgery today.

Benefits of using the POD – a simple phone call that you can make from the comfort of your own home.  Your prescription can then be sent electronically to your nominated pharmacy or collected from the surgery if you prefer.

If you are trying to get through on the telephone during a busy time an alternative way to contact POD is by completing the online call back request form on their website

If you have on-line access you can order your repeat prescriptions on-line.  If you do not have access but would like to choose this option, please come to the surgery with two pieces of I.D (one photographic and one utility bill which is no more than 3 months old) and complete a request form.  If you require further details regarding the online service please speak to one of our receptionists.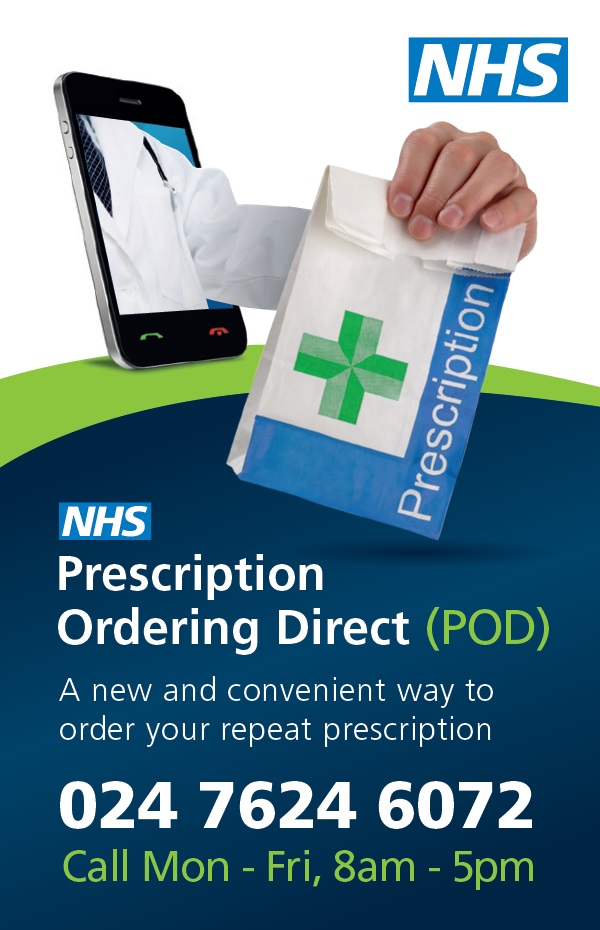 Other ways to order
You are still able to order using online services and by dropping your request into reception.
If the doctor has agreed for you to have a repeat prescription, you may request repeat medication:
Please allow at least 48 hours for us to process your request.